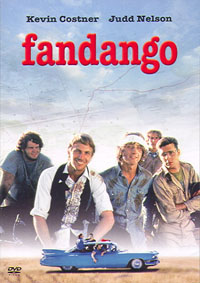 Chuck Bush is the one on the left
1993: Whilst at University several friends (Warren, Scott, Jim, Conrad, Vanessa, Eadaoin) and I discovered a little known movie called Fandango. A classic American coming-of-age road-trip movie, it is a very personal film and had a big impact on us. My two room-mates (Scott & Jim) and I even buried a bottle of Dom and dug it up after graduation, just like in the movie.
1997: Moving to London to become a web-site designer, I built a small fan site for the movie. Right away I start getting emails from other Fandango fans, many of whom have similar stories about how much the film means to them.
1998-2004: Over the next many years the site keeps expanding with fan stories, location photos, soundtracks etc. One of the actors, Chuck Bush ('Dorman'), emails the site with a bunch of behind the scenes photos and stories. Then one of the other actors, Marvin J McIntyre ('Truman Sparks'), does the same. The site has now grown into a huge fan resource.
2005: I redesign the site and hand it over to Chuck Bush, who adds a discussion forum.
2007: The Alamo Drafthouse Theatre organises a screening of Fandango in the village square where the movie's finale was shot. With Chuck Bush they also organise a road trip/scavenger hunt for the two days leading up to the screening, where fans can visit all the filming locations.
Above: Scott, me and Jim burying our Dom
Left: Marvin J McIntyre with Kevin Costner