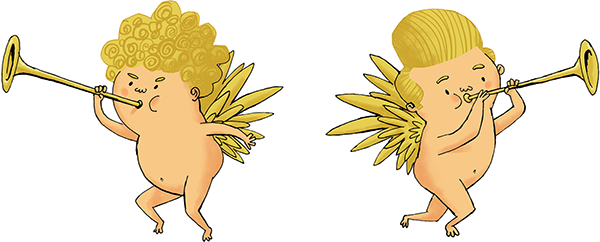 The Story
For hundreds of years, the British bureaucracy of Myth Management has maintained the delicate balance between the human and mythological worlds – a thin tweed line between civilisation and chaos.
Today, Emily Peasbridge – lanky, bookish and accident-prone – begins her academy apprenticeship at their HQ; a sprawling building wedged between dimensions. Here, she must administer creatures of myth and legend, match wits with ancient gods, and battle institutionalised sexism – ably assisted by her new best friend Izzy, the dashing and mysterious Administrator Champ, and Rudy, the seven-foot Shoggyhund.
But when an old enemy rises and mythical creatures begin infiltrating the human realm, it's up to the academy's newest recruits to help them face their greatest challenge. So keep calm, stiffen those upper lips, and put the kettle on, because you're about to witness... mything in action.

"As if Willow from Buffy went to Hogwarts Uni, as run by the Kingsmen!"
"The characters immediately caught my imagination and the action is fast and furious."
"Clever bon mots and turns of phrase, fascinating characters, and large doses of humor."
"A great plot, perfect cast and world-building... and, crucially, total fun."
"I absolutely loved this story... I couldn't get enough of it."
"I found myself saying, 'Just one more page', but couldn't put it down."
"Mustard, well named, always adds a dash of something special."
Michael Palin
"Like The Onion?
You'll love Mustard."
Patton Oswalt
"Naughty, observant and very very funny... made me laugh out loud on the tube."
The Telegraph