USA Road Trip, April 2004
day 1: Massachusetts [11] : day 2: Niagara Falls [6] : day 3: Ontario-Illinois [13] : day 4: Chicago [13]
day 5: Wisconsin-Minnesota [6] : day 6: South Dakota [6] : day 7: Badlands [20] : day 8: Wyoming/Montana [20]
day 9: Yellowstone Park [24] : day 10: Montana/Idaho [8] : day 11: Roslyn [7] : day 12: Seattle [7]
Day 5: Wisconsin, Iowa & Minnesota
Steve was excited that we were listening to 'A Prairie Home Companion' (a classic mid-west radio show) whilst driving through Wisconsin. This was also where we had our first brush with the law.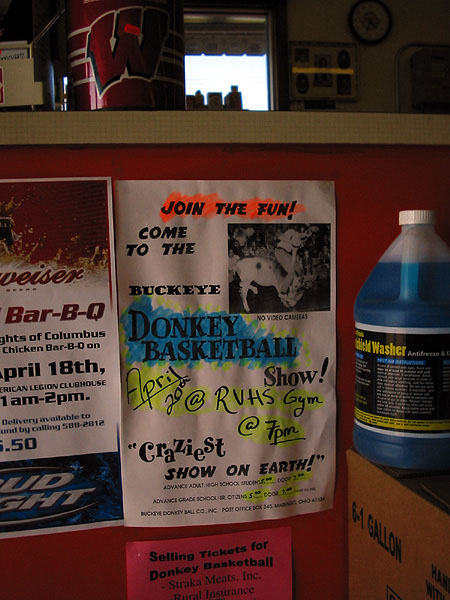 Donkey basketball. Of course.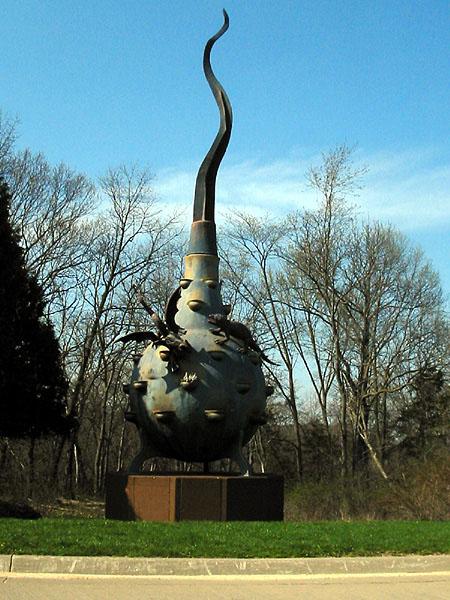 Weird art
Fill her up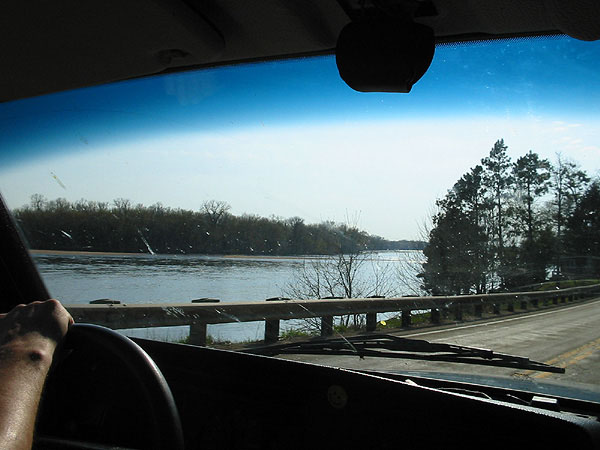 Crossing the Mississippi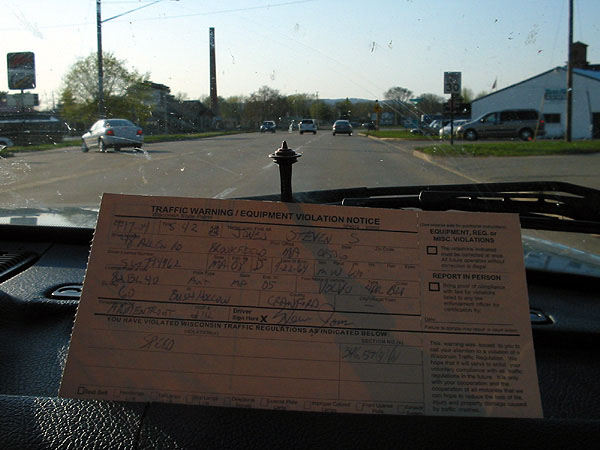 Driving down a winding country road I spotted a cop sitting in his car at the side of the road. 'Cool, a State Trooper', I thought, looking at him. As we went past I happened to look in the wing mirror and saw him pull out after us. I mentioned this to Steve. "You looked at the cop?!" he asked in disbelief. "Well... yeah." "Did you look at him in general or did you make eye contact?" "Um... eye contact." "Oh jeez. Okay, I hate to use this cliche, Alex, but leave the talking to me."
We got off with a written warning, ostensibly for driving a too fast, but actually for, as Steve put it, 'looking a bit liberal'. "Would you be carrying any anti-Bush opinions with you? Is that a pony tail you have there, sir? Are you wearing sandals at this time? Please step out of the vehicle, sir..."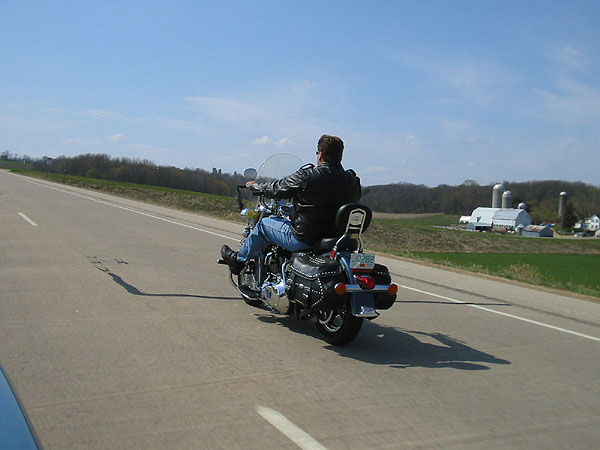 Biker
Later this day we made a pilgrimage to Frank Lloyd Wright's Taliesin. As the day wore on we saw three massive thunderstorms circling us on the horizons as we drove. At one point we stopped and stood in a field to get a proper look at them. That evening the news said that they were dropping hail the size of cricket balls.
Next set of USA Road Trip pics: South Dakota


Back to top


Alex photos home page